June 5, 2013 in All Posts, First Grade, First Grade Literacy, Kindergarten, Kindergarten Art, Kindergarten Craft, Kindergarten Literacy, Play, Preschool, Preschool Art, Preschool Craft, Preschool Literacy, Preschool Math, Toddler Activities, Toddler Art, Toddler Literacy, Toddler Math, Toddler Science
School's out! Have you figured out how to keep your kids learning while they're on summer break?
True story:  my mom would leave academic workbooks outside each of our bedroom doors so we would find them when we woke up for the day and we'd have to have them completed by the time she got home from work.
That's not exactly what I have planned for my preschooler and pre-kindergartener – mainly because leaving them home alone while I'm at work would mean daily raids of my mommy-only craft stash and that would be totally unacceptable – but I do want the kids to be involved in summer learning activities that keep their creative minds curious all summer long.
Top Ten Ways To Keep Kids Curious
1) Get Outside.  
Take advantage of this season's good weather and head outside for early morning nature walks or evening neighborhood strolls to listen for birds and watch for stars.  Just spending time in your backyard works, too.
Outdoor Discovery Tips
Bring a bag for collecting leaves, seeds, rocks, and other discoveries.
Bring a magnifying box or magnifying glass for getting an up close look at bugs and insects.
Check out a book on native plants, animals/insects, or astronomy before heading out to guide your discovery and learn about your new finds once you get home.
2) Do Messy Experiments.

 
Hosing the kids and your "laboratory" down after mad science experiments is so much easier when you're outside.
Science Activities to Try
Learn About Absorption (our post on tie dye towels, plus links to our celery capillary action experiment, sponge painting, and a sand+water experiment)
3) Theme It.
Theme your summer. Even if you've been on summer break for a few weeks now, plan your themes this week and start them next week. It's not too late!  (It better not be, since I, myself, am still in the planning phase).
Example theme

 (Planes, trains, and automobiles)
At the beginning of the week, read Big Book of Airplanes

, 

Amazing Airplanes, A Day at the Airport (our fave!), Big Book Of Trains, My Big Train Book, Cars and Trucks and Things That Go, or Big Book of Things That Go.
The next few days put out craft or science materials related to transportation (blow pom poms with straws to demonstrate wind movement; construct and decorate paper airplanes; create DIY wrapping paper by running toy truck treads through paint and then over butcher paper).
Another day, take a local train trip or visit your local airport.  In the Bay Area, you can visit the Hiller Aviation Museum to learn more about planes or Roaring Camp Railroads to ride a steam train through the redwoods.

Later in the week, try a homemade themed sight word matching or memory game.  

Incorporate some math into your week by setting up counting games or patterns with toy transportation vehicles. Or, have your child take his toy truck through a maze of painter's tape you create on the floor.
4) Ask Your Child a Question a Day.
It can be about anything.  Choose a topic that you'd like to explore with her.  Theme it, even!  The goal is to keep your child's mind thinking and problem solving.
Sample questions
5) Visit Local Children's Discovery Museums.
If you're home with the kids for the summer, visiting a children's museum during the week is a great way to spend a morning or afternoon with hands-on learning activities and exploration.  You'll avoid the weekend crowds, too.  If you're a working parent or have your children enrolled in summer camp or classes….play hooky!
Maybe you do this every day without needing a reminder, but for the rest of us, checking in every once in a while helps.
7) Start a Book Club or Join a Summer Readathon.
Easily avoid the "summer slide" and keep your kids interested in new topics or delve deeper into favorites by starting your own book club at home with your kids, joining up with neighbors, or participating in a virtual book club/readathon like these:
8) Make Smart Screen Choices.
Sure, there are many reasons to go screen-free, especially when it's warm and the kids should be playing outside as much as they can, but make screen time work to your and your kids' advantage when you do need a change and when it's too hot to play outdoors.  (Plus, you know I am a television/computer proponent even though I do applaud screen-free activities).
"Extend" screen time by taking a television program episode into real life.  For instance, if your child is watching Pig bake a pie on Word World, bake one in real life later that day.  Have your child help you draw, write, or come up with a shopping list; let him help with the shopping or prep; and build in a math lesson paying for groceries or measuring ingredients.  You'll be working in fine motor and practical life skill activities, too.  You can easily extend the episode into a sight word or writing activity and pretend play.
Use apps and games to build learning into your child's day.  iGameMom has a great roundup of Educational Summer Apps for Kids and Kids Activities Blog has rounded up preschool reading apps and preschool math apps in two pretty little posts for you.
9) Build a Summer Scrapbook.
Give your child a blank notebook (or make your own) and for each page or chapter, have your child write/draw/paste information or keepsakes on a particular subject.  You can provide the topics yourself or let your child choose for herself.  Basically, you're building mini "book reports" on a particular subject.
Ideas & Inspiration
Bugs: Take a photo of an insect in your yard, print it out, and paste it in the book; draw a picture of the insect you saw; write the name of the insect; write or pictorially depict the insect's habit, food, lifecycle.
Photography: Take snapshots and practice bird's eye versus bug's eye, flash versus natural light; and paste them into the scrapbook.  Place checkmarks next to the better photos and come up with rules for the next set of photos.
Reading/Learning Letters: Cut out letters from an old magazine and make a collage; practice writing letters or words; find and paste pictures of words or objects that start with the letter (e.g., apples for the letter "A").
10) Be curious yourself!
Children learn by example.  Plus, they shouldn't be having all the fun this summer.  Every week (or month, if that's too much), pick one thing you're really curious about and learn about it!  Maybe you've always wanted to make homemade jam – take the kids to a local u-pick farm and clean out those mason jars collecting dust in your pantry.  Or, maybe you've wondered about an art technique or why an artist favored a particular medium over another.  Set up an art experiment for yourself and involve the kids, too.  I'm petrified of barn owls, but maybe you're fascinated:  check out books from the library, read up on those snowy-faced creatures on the Internet, and then head to the zoo.  Curiosity is contagious!
More Summer Learning Activities for Kids
Don't stop here…go visit some of my favorite moms who have curated their own Top Ten lists for Summer Learning and keep your kids curious:
Sunday ~ This Reading Mama | The Educators' Spin on It | Kitchen Counter Chronicle | Rainbows within Reach | Kindergarten & Preschool for Parents & Teachers | Monday ~ Train Up a Child Learn as We Go | Housing a Forest | Royal Baloo | Living Montessori Now | Tuesday ~ Toddler Approved | Play Trains! | 3 Dinosaurs | Wednesday ~ The Outlaw Mom | Teach Beside Me | Hands On as We Grow | Thursday ~ JDaniel 4's Mom | All Done Monkey | Fantastic Fun & Learning | KC Edventures | Playing with Words 365 | Friday ~ Teach Mama | The Usual Mayhem | Nature and Play | True Aim Education | Saturday ~ Creative World of Varya | Craftoart | My Buddies and I
Some of my faves so far:
Plus, don't forget to visit our collaborative Top Ten Summer Activities Pinterest Board … just click the photo below and be taken to summer learning inspiration central!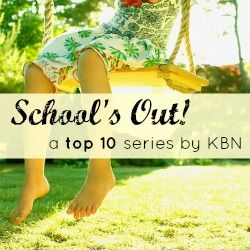 Please share some of your own family's faves with us here in the comments or on Facebook, Twitter, Pinterest, or Google+.  If you share an activity with us on Instagram, remember to tag it with #raisingthinkingkids so we can find it.
And next Friday, I'll be announcing our Keep Kids Curious Challenge for you crazy photo-snappin' and sharin' Instagrammers!
Disclosure: This post contains Amazon affiliate links to our recommended books, which means your purchase may result in earnings for our blog. We put the funds we earn through affiliate commissions back into the blog for things like hosting fees, image fees, etc.
You Might Enjoy: